Hairtrends Fall/Winter 2014-2015
De fashionweeks zijn weer voorbij en we zagen weer heel wat de revue passeren. Vandaag neem ik jullie mee in de Hair trends voor dit seizoen. Er staan ons weer heel wat mooie trends te wachten!
The fashionweeks are over again and we saw lots of beautiful things in Hairtrends! Today I'll take you with me to the most beautiful hairtrends for this season! 
1. Vlechten / Braids
Vlechten zijn nog steeds in! Wat vaak op de catwalk verscheen was de ingevlochten froufrou! Heel mooi ook voor een daily wear!
Braids are still hot! We spotted a lot of braided bangs! Really beautiful for a daily wear!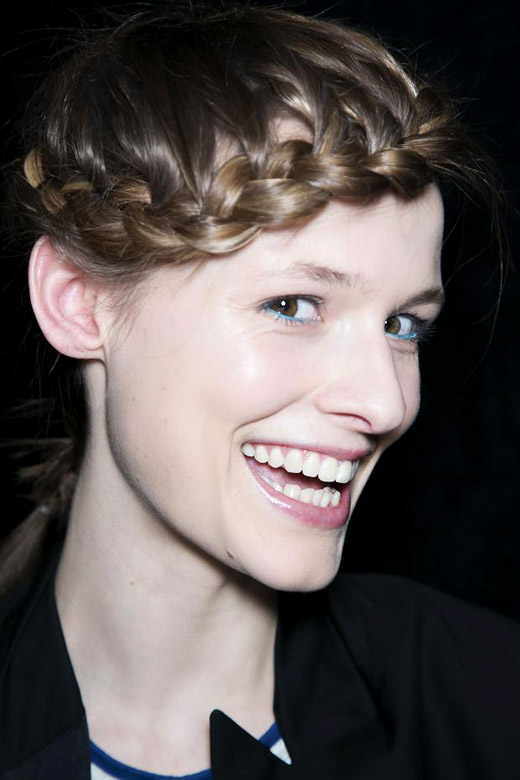 Chanel komt dit seizoen met vlechten in combinatie met extensions uit stof!
Chanel comes this season with the braid in combination with hair extensions out of fabric! 
2. Grafische Staart / Graphic ponytail
Een andere staart die we vaak terug zien is deze:
Another ponytail we also see al lot is this one: 
3. Korte bob 
De korte bob in combinatie met een ombré is ook volledig in dit seizoen!
De bob in combination with an ombré is totally in this season!
4. Pastel Amethyst haircolor
Het nieuwste 'it-kleur' voor dit seizoen is pastel Amethyst! Je ziet dit haarkleur overal verschijnen en veel modellen lopen met dit haarkleur rond!
New it- color from this season is pastel Amethyst! You see this color everywhere and lots of models are wearing there hair in this color…!
 © All pictures found at google image